Three sets of TRNG-70 mud storage tanks ordered by oil drilling client in our company have been loaded for client one by one and sent to the site designated by client.
The three sets of TRNG-70 mud tanks ordered by the client this time are used as mud reserve tanks at the drilling site. The three sets of TRNG-70 mud tanks are made of one 70m³ mud tank.It is composed of mud tank, three TRJBQ15 mud agitators, one 80YZ50-20 (5.5kW) submersible slurry pump and explosion-proof electric control system. This matching can prevent mud sedimentation by mixing with mud agitator, and transfer the mud in the tank to the place where it needs to be used by submersible pump.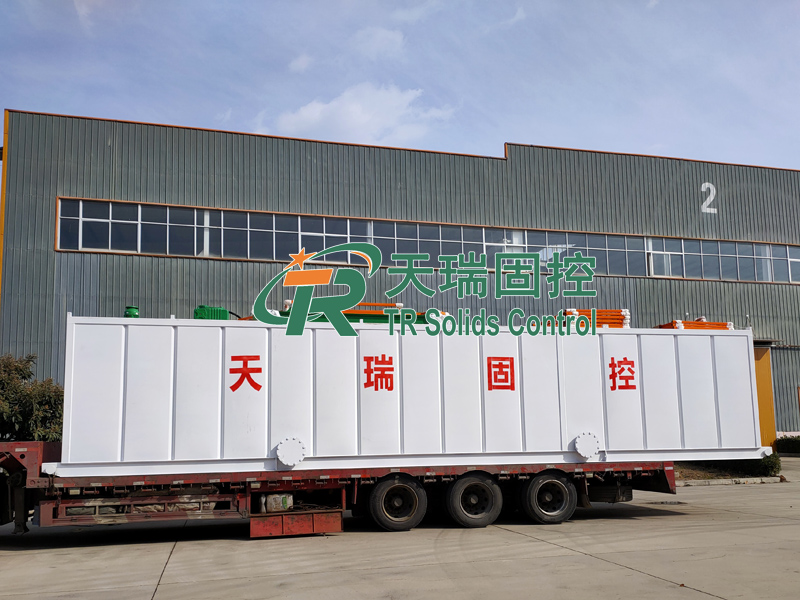 Xi'an Tianrui Petroleum Machinery Equipment Co., Ltd. is a modern solid control equipment manufacturer integrating R&D, production, sales and technical services. The company has been committed to the research in the field of solid-liquid separation for many years and has made relatively excellent achievements. The solid-liquid separation system and equipment produced by the company have been used in non excavation fields such as oil&gas, subway shield construction, urban building piling, horizontal directional crossing and so on, And the effect is remarkable.
If you need solid-liquid separation system or equipment, you can contact and communicate at any time. Email:sunny@trsolidscontrol.com